What's True Blood Star Alexander Skarsgard's Type?
By Paul Chi
Originally posted Sunday October 25, 2009 03:00 PM EDT
Alexander Skarsgard Photo by: REX USA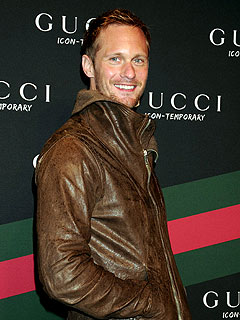 When it comes to finding love, True Blood's vampire hunk Alexander Skarsgard is looking for a woman with brains – not fangs! – who likes to laugh.


"A sense of humor is number one for sure," Skarsgard told
PEOPLE at the Gucci Icon-Temporary Flash Sneaker store opening in New
York City. "Being funny and smart is very important."


Known as the sexiest man alive in his native Sweden, the
single actor, 33, is turning heads and causing blood pressures to rise
with fans everywhere thanks to his brooding True Blood ego and charming good looks. "It's very flattering," he said of the swooning. "I turn a little pink!"

Though Skarsgard, who's been shooting the film Straw Dogs in Shreveport, La., for the past three months, has been linked romantically to costar Kate Bosworth, the sexy vampire has experienced fervent fan encounters that have ranged from sultry to slightly uncomfortable.


"I've gotten proposals and suggestions that are slightly
inappropriate," Skarsgard said with a laugh. "It's odd but very
flattering!"


While True Blood fans will have to wait until next
year to see Skarsgard again as bad-boy vampire Eric Northman, the actor
will start shooting season 3 of the hit HBO series next month, and says
he's eagerly looking forward to catching up with costars Anna Paquin
and Stephen Moyer, who announced that they were engaged to be married
in August.


"They are some of my best friends back in L.A.," said
Skarsgard of the couple. "The cast and the crew is amazing and I can't
wait to get started again. I really look forward to it and I miss them
a lot."
SOURCE: People.com
Mesdemoiselles, je pense qu'on a nos chances, non?
ADMIN *Eric's creature*




Messages

: 849


Date d'inscription

: 21/09/2009


Age

: 30


Localisation

: in Fangtasia



Ah mais tout à fait Marian, s'il vient faire un tour sur le forum il trouvera qu'on est pas tristoune du tout, par contre côté intelligence va peut être falloir qu'on arrête de baver sur nos claviers!
Merci Marian pour cette article.
Rencontre Bill




Messages

: 151


Date d'inscription

: 29/09/2009


Age

: 41


Localisation

: Le plus près possible des canines d'Eric




Non mais je peux être très intelligente lorsque les circonstances l'exigent. Et oui, je fais sciences po après tout! Bon d'accord, ils savaient peut-être pas dans quoi ils s'engageaient quand ils m'ont donné le concours...

Je dois avoir un petit côté Dr. Jekyll (pour la partie sérieuse) et Mr. Hyde (pour la partie totalement déjantée et grande baveuse sur clavier..)
ADMIN *Eric's creature*




Messages

: 849


Date d'inscription

: 21/09/2009


Age

: 30


Localisation

: in Fangtasia




---
Permission de ce forum:
Vous
ne pouvez pas
répondre aux sujets dans ce forum